Contractor Dumpster Rental
We are Committed to Our Contractor Customers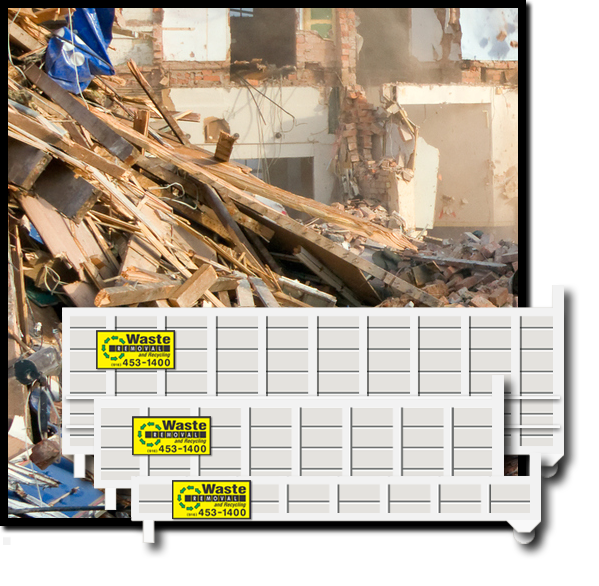 Serving Sacramento for over 20 years.
Waste Removal and Recycling has been the local contractor dumpster rental partner for over 20 years. We haul your debris to keep your construction site clean. We deliver and haul dumpsters until the job is done. We also offer storage containers that can be locked to keep your tools and equipment safe when stored on the job site.
…They really understand the real estate and construction fields and the old adage "Time is Money." Dumpsters arrive when they are supposed to and leave when requested!…
Click here to read more…
We offer our contractor dumpster rental boxes in three convenient sizes:
We offer several different size dumpsters for your construction, renovation and demolition jobs. We guarantee the best service and value in town. Waste Removal and Recycling works side-by-side with you and your crew to make your job easier. We are quick to react and often deliver the dumpsters immediately after you request the service.

Size 1: 12 ft x 8 ft x 3 ft
Size 2: 18 ft x 8 ft x 2 ft
Size: 18 ft x 8 ft x 4 ft
Size: 22 ft x 8 ft x 6.5 ft
This smaller dumpster is available in two sizes and specifically designed for heavy and dense items like concrete, dirt, rock, asphalt, and similar debris.

It is the size of a small car (Honda Civic, Toyota Camry).
This is our medium-sized dumpster for medium sized jobs like yard and garage clean-up or similar commercial and residential projects.

It's the size of a Ford F250.
This dumpster is the most economical for large-sized projects. It is designed for construction, remodel and demolition debris, scrap metal, estate, garage and yard clean-ups.

It's the size of a Ford Superduty.















Items We Do Haul
We are happy to haul building materials and other items that can be recycled.
Heavy Materials
Dirt, Rocks, Asphalt, Concrete, Stucco
Construction Debris
Drywall, Studs, Sheetrock, Plywood, Wiring, Pipes, Insulation, Cabinets, Carpet, Flooring
Roofing Materials
Roof Tiles, Shingles, Gutters
Recyclables
Paper, Cardboard, Wood, Fencing
Green Waste
Trees, Shrubs, Leaves, Sod, Mulch
General Clean-up
Garbage, Bikes, Toys, Lawn Mowers, Storage Sheds, Hot Tubs, Furniture
Appliances
Any kind of Appliance, large or small: Refrigerators, Freezers, TVs, Computers and Computer Monitors (additional fee required)
Tires
Tires of different makes and sizes (additional fee required)
Items We Do Not Haul
The following are items we are unable to haul for you.
Liquid Chemicals
Paint, Antifreeze, Oil or Oil Containers
Propane Tanks
Propane Bottles, Tanks, Cylinders
Chemically Treated Wood
Railroad Ties, Pressure Treated Wood
Lighting
Mercury Thermostats, Fluorescent Lights
Perishable Foods
Restaurant and any other kind of Food Waste
Batteries
Neither Auto nor Household or any other kind
Biohazards & Medical Waste
Sharps (needles, scalpels) Prescription Drugs, etc.
Customer Testimonial
Click here to read all testimonials.

I had a house fire and needed a dumpster delivered and picked up to dispose of the contents of my home. Waste Removal and Recycling was fantastic. I had so much on my plate to do and they actually arrived on time when they said they would so my time wasn't wasted!

They worked with my insurance company in regards to the payment (although when I originally contacted Waste Removal & Recycling they were quite competitively priced) so I didn't need to hassle with any of that.

I was concerned that dumpster would be and eyesore in my yard. I was pleasantly surprised when it was freshly painted with no rust or graffiti on it! I now pass another home on my commute with a dumpster from another company in their driveway and it is absolutely awful! I almost want to go knock on their door and refer Waste Removal & Recycling to them (although it's a bit late now)

I highly recommend Waste Removal & Recycling!