Residential Dumpster Rental
From Our Family To Yours for Over 20 Years!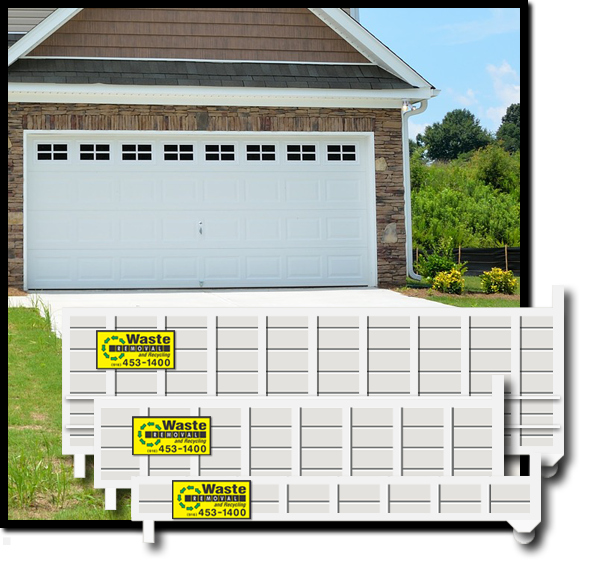 Safe, clean and freshly painted dumpsters. Every time.
Waste Removal & Recycling
 is your local expert in waste removal and dumpster rental. No matter what your residential project–
cleaning out the garage
,
cutting back trees
,
removing a concrete driveway
,
cleaning out your storage space
,
minor and major yard projects
,
cleaning out mother's attic
–we offer the right dumpster for the job.
Our residential dumpsters are always freshly painted and clean. It is safe for you to use and to store in front of your home. We take great pride in the service we provide and look forward to the opportunity to help with your project.
...They were prompt, very reasonable in price and picked up the filled bin the next day - a Saturday. You won't find better service, nicer people or cleaner dumpsters anywhere...
Click here to read more...
We offer our residential dumpster rentals in three convenient sizes:
We offer several different size dumpsters for your construction, renovation, and clean-out jobs. We guarantee the best service and value in town. Waste Removal and Recycling works side-by-side with you and your crew to make your job easier. We are quick to react and often deliver the dumpsters immediately after you request the service.

Size 1: 12 ft x 8 ft x 3 ft
Size 2: 18 ft x 8 ft x 2 ft
Size: 18 ft x 8 ft x 4 ft
Size: 22 ft x 8 ft x 6.5 ft
This smaller dumpster is available in two sizes and specifically designed for heavy and dense items like concrete, dirt, rock, asphalt, and similar debris.

It is the size of a small car (Honda Civic, Toyota Camry).
This is our medium-sized dumpster for medium sized jobs like yard and garage clean-up or similar commercial and residential projects.

It's the size of a Ford F250.
This dumpster is the most economical for large-sized projects. It is designed for construction, remodel and demolition debris, scrap metal, estate, garage and yard clean-ups.

It's the size of a Ford Superduty.















Items We Do Haul
We are happy to haul building materials and other items that can be recycled.
Appliances
Any kind of Appliance, large or small: Refrigerators, Freezers, TVs, Computers, and Computer Monitors
(Additional charge applies.)
Construction Debris
Drywall, Studs, Sheetrock, Plywood, Wiring, Pipes, Insulation, Cabinets, Carpet, Flooring
General Clean-up
Garbage, Bikes, Toys, Lawn Mowers, Storage Sheds, Hot Tubs, Furniture
Green Waste
Trees, Shrubs, Leaves, Sod, Mulch
Heavy Materials
Dirt, Rocks, Asphalt, Concrete, Stucco
Perishable Foods
Restaurant and any other kind of Food Waste
Recyclables
Paper, Cardboard, Wood, Fencing
Roofing Materials
Roof Tiles, Shingles, Gutters
Items We Do Not Haul
The following are items we are unable to haul for you.
Batteries
Neither Auto nor Household or any other kind
Biohazards & Medical Waste
Sharps (needles, scalpels) Prescription Drugs, etc.
Chemically Treated Wood
Railroad Ties, Pressure Treated Wood
Lighting
Mercury Thermostats, Fluorescent Lights
Liquid Chemicals
Paint, Antifreeze, Oil or Oil Containers
Propane Tanks
Propane Bottles, Tanks, Cylinders
Tires
Tires of different makes and sizes
Customer Testimonial
Click here to read all testimonials.

Waste Removal And Recycling is hands down THE place to call for dumpsters! I had called a couple other rental companies to get a quote, and none of their prices could even compare to Waste Removal And Recycling. Emily was very helpful over the phone and answered all my questions. Even went the extra mile and made sure my dumpster would fit in my driveway, explaining the size and how much room it would need around it to use the doors. 11/10 recommend!